Waves Puts Audio Processing on the iPad
The new Mashup app promises studio-quality processing right on Apple's tablet.
Latest News
Projectors 101 — The Basic Knowledge You Need for Your Higher Ed Solution
TechDecisions Guide to 28 Short-throw and Ultra-short-throw Projectors for Higher Ed
The Institute of Culinary Education Serves Better Content Delivery with T2 Computing, iPads
New Sound System Wows Visitors, Encourages Mixing at NMU
Latest Resource
6 Reasons Why Your Space Needs a Lampless Projector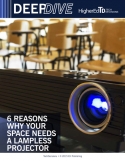 Lampless Projectors Are Appearing Your Conference Room, Classroom and Worship Space
TD Staff
·
April 23, 2012
Not everyone has the space or budget for a ton of AV equipment. Waves Audio is making it easy to pack an entire DJ booth into the Apple iPad.
Waves Audio just announced the new Mashup iPad app. A collaboration with Musicsoft Arts, Mashup promises studio-quality audio processing all via the iPad tablet. The app includes an advanced playback engine, effects, and direct access to a user's music library.
Compatible with the iPad 2 and up, Mashup is designed to replace all of the complex and cumbersome gear, such as mixers, PCs and turntables. Other features include studio-quality EQ and analog-style resonant filters, as well as independent time-stretch and pitch-shift for each of its two stereo decks.
Waves Audio is selling the Mashup app in the iTunes Store now for $39.99. If you're looking for a little more power, Waves MaxxAudio adds in preset sound modes and can elevate output levels and bass, all for an additional charge.
Latest Resource
6 Reasons Why Your Space Needs a Lampless Projector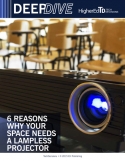 Lampless Projectors Are Appearing Your Conference Room, Classroom and Worship Space