Radvision Bulks Up Video Conferencing Portfolio
The new Scopia XT4200 HD and XT Meeting Center feature dual 60fps video channels, iPad control, and more.
Latest News
UMass Medical School Invests in Projectors, Lecture Capture Solutions to Foster Collaboration
Educational Discount: iTeacherBook – Best Teacher Planner
Mills College Installs New Sound System to Support Musical Experimentation
Sister Site Commercial Integrator to Host Free Projector Webinar This Week
Latest Resource
6 Reasons Why Your Space Needs a Lampless Projector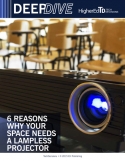 Lampless Projectors Are Appearing Your Conference Room, Classroom and Worship Space
TD Staff
·
April 30, 2012
Radvision is making its Scopia video conferencing platform a little more… well, rad.
The company just introduced the Scopia XT4200 HD video conferencing system and the Scopia XT Meeting Center, an all-in-one room system with integrated 55-inch displays. Can't get much more rad than that!
Designed for small- and medium-sized conference rooms, the Scopia XT4200 HD has dual 720p/60fps HD video, H.264 high profile and scalable video coding (SVC), dual display support, and a wide-angle pan-tilt-zoom camera. It's also available with optional multi-touch control via the Apple iPad.
Powered by the company's Scopia XT5000 HD videoconferencing room system, the XT Meeting Center combines single or dual 55-inch 1080p premium displays. It also has dual HD 1080p/60fps for live video and content and CD-quality, 20 kHz audio. It also has that option for multi-touch iPad control.
"Radvision continues to deliver innovative, affordable high quality video solutions that include high-end features and functionality at a price point nearly any business can afford," said Rob Arnold, program manager fo Frost & Sullivan. "Radvision has quickly built up an impressive end-to-end catalog, and the addition of these two new endpoints enhances the company's room system portfolio. The XT4200 introduces a highly affordable HD system that incorporates the latest video technologies and the all-in-one XT Meeting Center will appeal to businesses requiring an integrated and flexible visual communications solution."
Coming in Q2 2012, the Scopia XT4200 and XT Meeting Center will be available through Radvision's reseller partner network.
Latest Resource
6 Reasons Why Your Space Needs a Lampless Projector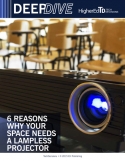 Lampless Projectors Are Appearing Your Conference Room, Classroom and Worship Space