Digital Signage Lessons Learned
Purdue's Thomas Bunton offers his best advice for colleges and universities looking to deploy digital signage.
Credit: Photo courtesy of linademartinez/Flickr
Credit: Photo courtesy of linademartinez/Flickr
Digital Signage News
University of California Scales Video Wall Obstacles with New Peerless-AV Video Wall
University of Manchester Installs 350-Room Lecture Capture Solution To Meet Students' Learning Needs
Kaltura Connect Education Virtual Summit: How to Set Up for Successful Video-Based Learning
5 Functions That Make a Successful Video Solution for a College Classroom
Digital Signage Resource
Deep Dive: 6 Mistakes End Users Make with Their Projectors and How to Fix Them

This guide reveals the top 6 mistakes end users make with their projectors, along with advice from projector experts on how to fix and avoid those mistakes.
Daniel P. Dern
·
March 28, 2012
Thomas Bunton has overseen the installation of digital signage that serves over 50,000 students and staff at Purdue University. Here he shares a few tips for other schools looking at deploying digital signage:
Focus on the enterprise. Leverage the benefits that central IT organizations can provide in deploying and managing the players so that your users can focus on content.
Partner with the campus community, make it a win / win for everyone involved. Get involvement from the stakeholders early on to determine requirements, identify resources, and integration points. A successful digital signage deployment depends on several individuals from different departments doing their parts in order to provide an integrated network of displays yet still providing distinct content to the targeted audience.
Work with your users to understand the audience in order to reap the full benefits of the systems narrowcast capabilities. A lunchtime crowd of faculty and staff may want to simply see the lunch specials, but the late night crowd of students watching the game may have a preference for more dynamic and interactive content such as Twitter or texting integration
Most importantly, says Bunton, "Make sure that the people who have to sign off on digital signs for their locations get a strong feel for 'what's in it for them'—not just how it will benefit the university or department."
Latest Resource
6 Reasons Why Your Space Needs a Lampless Projector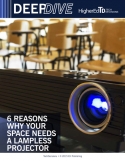 Lampless Projectors Are Appearing Your Conference Room, Classroom and Worship Space