AV/IT Managers Taking Over Some Programming
At AMX, AV/IT managers got to see how they could cut the programming time of "cookie cutter" installations by ten times.
Control & Automation News
The Difference Between VMS and PSIM, and How Both Can Boost Physical Security On Campus
Implementing Mass Notification Technologies in Compliance with NFPA 72
Hofstra University Moves to Turnstile Entrances to Upgrade Access Control
How Colleges Use Sustainability Technologies to Grow a Green Culture on Campus
Control & Automation Resource
NSCA Offering Free MNEC Symposium Registration

Education Foundation sets aside money to cover costs of attendance for integrators, AHJs.
TD Staff
·
March 15, 2012
Recently AMX hosted a product preview at their Richardson, TX corporate office for several area higher education IT and AV technology decision makers, directors and managers. While there were many great products highlighted, one made a particular impact on the one systems integrator/programmer who was in attendance. It also made an impression on his boss.
Some background: I had spent the previous day with this same group of Texas-area, higher education AV/IT managers at an event hosted by Southern Methodist University (SMU). We heard about how they were implementing A/V and IT throughout their campuses.
In attendance were Joe Jackson (the boss) SMU's AV/IT Teams Lead, Design and Installation Coordinator in the Office of Technology as well as Ed Aceves (the programmer), for some of the over 150 integrated "AMX rooms," classrooms, sports facilities and multi-use rooms.
Fast forward: During the product presentation AMX product manager, Justin Kennedy put up a slide of five components: an AMX DVX-3150 controller, a videoconferencing system, a TV, a DVD player and a laptop. Kennedy asked Aceves how long he thought it would take him to program these for an average AMX-controlled, classroom. Aceves thought about it and decided it would take him about 20 hours. AMX had surveyed many programmers to find out how much time it would take them to do that specific programming and Aceves's estimate was right on target.
What Kennedy was about to present made Aceves and his boss' eyes widen. AMX is releasing a configuration software product that will cut the programming time of "cookie cutter" installations by ten times. An installation that would have taken 20 hours will now only take approximately 20 minutes with the Rapid Project Maker (aptly named RPM).
With a slightly nervous laugh, Aceves expressed concern that his programming job was not
Latest Resource
6 Reasons Why Your Space Needs a Lampless Projector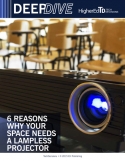 Lampless Projectors Are Appearing Your Conference Room, Classroom and Worship Space