Apple's Big Education News
Apple's expected announcement of an e-textbook venture is a clear sign of what's ahead.
Credit: Apple
Credit: Apple
Latest News
New Sound System Wows Visitors, Encourages Mixing at NMU
3 Ways Video Makes Online Learning More Engaging, from the Kaltura Connect Education Virtual Summit
The University of Liverpool Improves New Conference Space with Upgraded Audio
University of California Scales Video Wall Obstacles with New Peerless-AV Video Wall
Latest Resource
6 Reasons Why Your Space Needs a Lampless Projector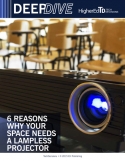 Lampless Projectors Are Appearing Your Conference Room, Classroom and Worship Space
Aaron Stern
·
January 12, 2012
The internet is abuzz with word of a major education-related announcement coming from Apple one week from today. And though no official word on that announcement is yet available, the best scuttlebutt is that it will be e-textbook related — not a new product, but a new venture.
If indeed Apple does jump into the textbook market, it will clearly be doing so through the iPad — the new version of which is due out this spring — and for colleges and universities this can only mean one thing: The craze of tablets in the classroom is no craze at all, but the first chapter in this new era of classroom-based educational tools.
Whether it is used as an e-reader, an interactive teaching tool for professors and students, or a control device for teachers and IT administrators to run lights, projectors and other AV equipment in a room, the tablet computer is only growing in power and the number of capabilities. This means that instructors will increasingly be encouraged—and, perhaps, badgered—to use tablets to enhance their lesson plans, but it also means that those IT administrators will be doing a lot of troubleshooting for those professors who need help, not to mention the responsibilities they'll face in expanding the bandwidth capacities of their facilities.
The investment is sizable, for sure, but school district after school district is finding a way to make it happen. There are a range of financing options out there, and no school should be buying their tablets outright; instead, schools can lease for on, two, even three years, and then upgrade to more current technology while their old tablets are repurposed and redistributed.
And so Apple's big news next week — should it in fact be what we think it will be — isn't big news at all, but another signpost along this new road full of intrigue and possibility.
Latest Resource
6 Reasons Why Your Space Needs a Lampless Projector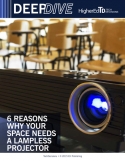 Lampless Projectors Are Appearing Your Conference Room, Classroom and Worship Space